SELECTED QUOTATIONS
Quotations from Blessed Maurice Tornay according to a small leaflet made by Rachel Tornay (daughter of Louis), niece of the Blessed
1. ......Let Him be the last motive of all your steps......22.11.1934
2. ......The good Lord asks only one thing: His will.... August 1935
3. ......Put your heart where your happiness is...... 24.05.1937
4. ......If you find time long, occupy yourself with seeking the truth, because it may be lost on the way.......17.01.1937
5. ......I like to tell the truth while laughing......19.09.1936
6. ......Nothing happens but what God intended and in all that God allows to happen God seeks only an opportunity to take our hearts...... 22.11.1934
7. ......Nothing resists good prayers and sacrifices....24.02.1947
8. ......Have courage to be patient........27.03.1946
9. ......The thing is to begin always, against all odds, and never to be discouraged.......15.1.1949
10. ......I wish you the joy of those who serve God, the Hope of those who wait only for heaven, and the freedom of those who seek only the good…..15.01.1949
11. ......When life weighs us down, let us go to Jesus......23.12.1931
12. ......There is only the life of faith that counts. Let us therefore live our faith. Let us weep, but offer our tears to God......01.03.1936
13. ...... We must receive the baptism of sorrows, of grief, in order to arrive one day at maturity........20.01.1928
14. ......Live in joy. Say often during the day to God that you love him…..17.04.1932
15. .......When you are cold, give it to the good Lord. When you are hungry, thirsty, your fatigue give it to the good God. Your tears, give them to the good God ......01.01.1933
16. ........In the midst of all these things that pass away, think of the things that remain eternally.......17.04.1932
17. .......Will you do for Jesus in the Eucharist what you would do for me........14.12.1932
18. .......Let's hurry before we die to love Jesus....25.12.1931
19. .......Survive, believe, love and adore......15.03.1928
20. ......Let us always trust......12.11.1938
21. ......Lose everything if we must, but not joy.....15.01.1949
22. ......Please bear with love the great weight of life.....24.02.1947


In 2020, in order to allocate places during the COVID-19 pandemic in the parish church of Orsières, our clergy, always ready to promote the exemplarity of the life of the Blessed Maurice stuck a card of the Blessed with a quote to the available places. We are pleased to share this initiative with you.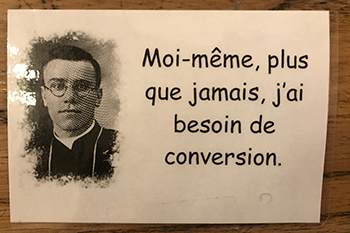 1/I make it my duty to use everything for the glory of God.
2/To live happily, in the true and pure love of God, let us live hidden.
3/Our prayers are a moment of love spent in the bosom of Love.
4/I pray that God will grow the seed of your true vocation.
5/Trust, believe, love and adore.
6/Let us put our hearts into the hearts of Jesus and Mary.
7/It is not for the stone to choose its place, but for the master of the work who has chosen it.
8/Let us love one another! Let us pray for one another.
9/I want to make the world a better place.
10/I want only to do God's will.
11/I pray God to make you happy.
12/When life weighs us down, let us go to Jesus.
13/Live with joy. Tell God often during the day that you love him.
14/Make me a saint by your prayers and sufferings.
15/We are young, we are 20 years old, we love God.
16/We have nothing to fear from death, let us be joyful.
17/Laughing in the crucibles of love and sacrifice.
18/It is necessary to hurry, at our age others were saints.
19/I try to worship the truth.
20/I am full of enthusiasm for the life that God has in store for me.
21/When one has done so much, tried so much, there is still God to pray to.
22/It is only the life of faith that counts. Let us therefore live our faith.
23/I feel that a new life awaits me in a new world.
24/In God, we come closer.
25/Other than serving God, really nothing is worth anything, nothing, nothing.
26/Running for God is a work beautiful enough in itself to do without results.
27/I like to tell the truth with a laugh.
28/Love is enough.
29/Not to shine in the eyes of men but to cast souls into heaven.
30/Put your heart where your happiness is: in the hope of heaven.
31/I thought I had left everything, but everything has been returned to me.
32/In a Christian heart, each thing finds its place that deserves our love.
33/Let us be happy; and since the earth is not enough for us, let us look to heaven.
34/In heaven, we will always love each other.
35/Let us always trust.
36/Love is the only thing that counts.
37/Prayer will save us.
38/There is always a time to do good.
39/The thing is to always begin, and never to be discouraged.
40/Lose everything if we must, but not joy.
41/Myself, more than ever, I need conversion.
42/I wish you the joy of being like Jesus.
43/The salvation of some is obtained only by the cross of others.
44/Everything through the Cross; outside of it, nothing!
45/I wish you joy for those who serve God.
46/Converting is the work of God alone.
47/Heaven alone will cause us pleasure not only without sorrow but above all hope.
48/Let us live with God, for he is our Father.
49/Ask the Blessed Virgin to taste the unspeakable joy that the service of God gives.
50/Don't live like cows who rejoice at fresh grass and are saddened by blows of the stick.
51/I want only to do God's will.